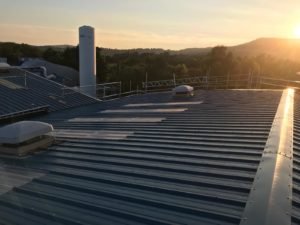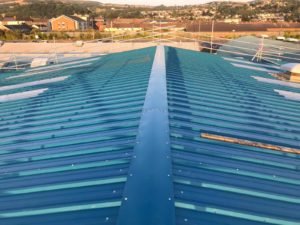 Industrial roof cladding: The term cladding refers to layering one material over another and commonly this can be metal. This not only creates a wonderful texture and aesthetic to your roof but there is also a functional aspect too. Metal cladding roofs offer fire resistant, energy efficiency, the longevity of over 50 years and wind resistance are just some of the advantages to metal roof cladding. Metal cladding is commonly seen on industrial or commercial buildings where its main purpose is it's functionality. However, domestic buildings can benefit greatly too, not just from the technical advantages but also from the way the building looks as a finished product.
How should I clad my roof?
There are many materials to choose from, each with its own character and choosing the right material for you building can be both challenging and exciting. When choosing the metal to clad your roof with there are many things to consider. The age, style, and build of your building plays a large role in this. Older buildings, such as barns might not suit metal cladding and in this case, you should sometimes, but not always, avoid metal cladding completely. It's fair to say that metal roof cladding suits modern buildings better than traditional styles and if you're looking to achieve a contemporary feel then this method should be high on your list.
It's not just your own building that you should consider. Think about your location and the surrounding builds too. Obviously, if you live next to a thatched building then metal cladding could be detrimental to both your's and your neighbour's aesthetics. But, if you're reading this article, the chances are you've decided to clad your roof with metal. Ask yourself which type you want to use. Many metal cladding materials are now coated with PVC Plastisol or painted with Polyester paint so there is a vast amount of choice when it comes to colour. It all comes down to your personal style and what you think will suit your building best.
The Benefits of metal roofing
Although the initial outlay for metal roofing is higher than other roofing materials such as Felt, in general, metal roofing lasts longer and requires fewer repairs. Environmentally responsible materials have become such an important concern lately. Fortunately, Industrial cladding metal roofing is a good sustainable choice. Many metal roofing is now made from reused or recyclable materials, which minimises waste and contributes to helping protect the environment. Furthermore, once your roof eventually needs replacing, the metal can be recycled, further reducing waste. Unlike other materials, metal roofing comes in a great choice of colours. This is because PVC Plastisol or Polyester paint coatings are used, which can be mixed into almost any colour you like. This brings us onto the final advantage of longevity. If you're looking for a durable roof, metal materials should be your first option. Some metals such as galvanised steel can last 40 years and if well maintained this could be as much as 50 years. A sound investment for the future.
If you require more information about cladding and metal roofing or would like a free, no-obligation quote, please contact our professional and friendly team on 07971 290975