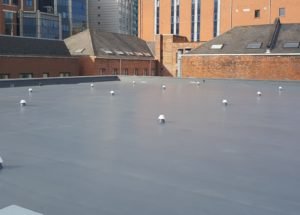 Liquid waterproofing your roof is a great way of ensuring that your roof and internal structures are protected from moisture damage and water ingress. We are fully capable of installing liquid waterproofing systems on commercial and industrial buildings, both in terms of new builds and refurbishments. You might be looking for roof refurbishment services but are uncertain which type to choose. Hopefully, after reading about liquid waterproofing, you can make a more informed decision.
Why Choose Liquid Waterproofing
If you're looking for a cost effective system for making your new or existing roof waterproof, then liquid waterproofing is the method for you. If maintained properly, roofs installed with a liquid waterproofing system can last for 25 years or more. Not only that but it could save you up to 70% if you are looking to refurbish your roof. Liquid waterproofing systems are ideal for roof refurbishments and can be applied existing roofing surfaces such as single-ply membranes, profiled metal or fibre cement, where it will create a seamless surface. In situations where repair work needs to be carried out, liquid waterproofing offers a cost effective method. In many cases, an overlay can be applied, which will save you money and time. If your roof has a complex design, with details such as upstands, penetrations, and terminations, some materials just can't be used. These complex details are not an issue when applying liquid waterproofing. A roof garden, where a membrane is often laid under the insulation and ballast, is the perfect example of when a liquid waterproofing system should be installed. One of the issues that has to be overcome with green roofing is root penetration. Many liquid waterproofing systems are designed with this in mind.
Euro Polymer and KEMPEROL® approved contractors
Here at Roofing Wales, we are– approved contractors. Euro Polymers have been designing and manufacturing polymers for over three decades and are continuing to develop a pioneering and high-quality polymer technology. These include Quantum, a liquid flat roofing system, Duras, a durable coating that can be applied to car parks and balconies, Viridis, which is ideal for green roofing, Phoenix, a refurbishment coating, Eurotorch which is applied with a torch, and Obex, which is a barrier system designed for tanks, DPC's and gas membranes.
Kemper System specialise in sustainable liquid roofing. Their products have been used around the world on buildings such as the Gherkin and even the Empire State Building. With a great variety of products such as waterproofing systems, surfacing systems, warm roof systems, and green roof system, you can be sure to find the ideal roofing solution for your commercial or industrial building.
If you require more information about liquid waterproofing systems or would like a free, no-obligation quote, please contact us